Introduction to Lei Music, the Glyph Institute², and 'Disk•Initiate.'
​
After spending the last year & a half dedicated to tracing the sprawling history of a phenomenon called Lei Music - I decided to formalise my fixation on the field by founding a research facility called the Glyph Institute². In the following months I will be publishing my experiments, analysis, and best attempts to elucidate the questions that have always eclipsed any formal understanding of Lei Music. Comprised of a tangled nexus of folklore, geology, sound technology and ever-diverging historic accounts - Lei Music's questions seem eternally shrouded by a dense blur.
______________________
​

-Crest Node, unknown author ₁
______________________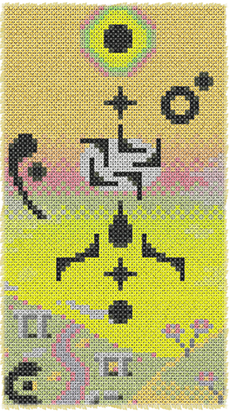 Lei Music (╰ ⋵ ⋰☗∰፨☼⑇ ) is a type of music based around specific combinations of sounds & airbound emissions that are intended to summon an entity. Tearing strange beings into the human world from invisible zones, instrument-players gather to perform screeching, clattering compositional experiments. The entities' appearances will differ and shift vastly depending on the instrumentation, timbre, tempo etc. Their visual forms are theorised to be of near-infinite variations. When Lei Music is performed in a safe & intermediate condition - the calls, whirs & howls of the entities will be adapted as a functioning element of the piece.
Traces of Lei activity date back to thousands of years, however even to this day the music has rarely left the confines of a vague geographic circle - barely reaching from Bodmin M⚮r to the edges of the Blackmore Veil. The poor and essentially inexistent documentation of the subject was a huge draw for me to finally establish an institute dedicated to preserving & analysing Lei Music.
______________________
​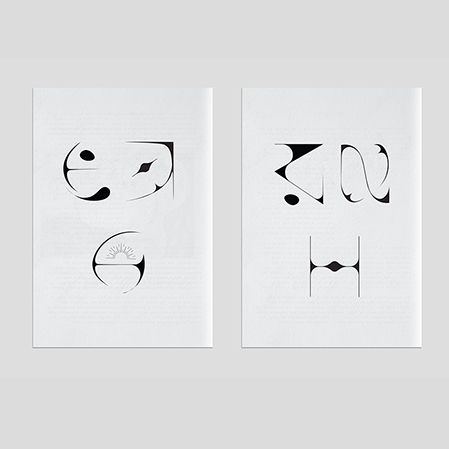 -Reconstructed Lei Music musical notation ₄
______________________
Commonly, the Lei Music performed would be transferred to a 'Lei Disk' - an oblongular disc drive with the ability to replay the music and summoned lifeform's data. By creating a misty projection in mid-air, Lei Disks function by recalling a fuzzy, ephemeral echo of the event and song. The tech has stayed largely unchanged since the Heliocene - a bygone epoch that is thought to be the origins of Lei Music. Artists would adorn the discs with stickers and decals, attempting to emblemise the entity that the musicians summoned. Lei Disks have developed something of a resurgence of interest during recent decades - with the internet fueling a burgeoning collector subculture. Enthusiasts trade the discs in shady P2P networks, restlessly clasping at the chance to bask in the glow of rare, lost summons. A sought-after Lei Disk is one that contains the data of a monumental, chaotic event that is commonly referred to as the Millennium Summon 2001.
______________________
A brief recollection of the 'Millennium Summon 2001.'
______________________
On June 21, 2001, a spindling entity loomed over the hill-top settlement I grew up on in South West England. I remember some kind of narration from the TV that morning about France beating Japan in the FIFA cup final. A crowd of around thirty musicians, organized inside a weathered bandstand, were mid-way through attempting to summon a lifeform through Lei Music. There is a mechanism in the human brain's ventral stream that makes us adept at quickly (often incorrectly) interpreting visual stimuli as faces. With this in mind - the onlookers' accounts agree that for the bulk of the summon's duration, the entity's upper patterns formed an expression that felt like the glare of a humongous spectral barn owl. Glowing yellow sheaths of matter ejected from its countless limbs at blistering speeds - like a new skin being shed every millisecond. The auroras poured into the surrounding landscape, barraging down the valleys as violent tidal waves of perfume spritz.
______________________
-Millennium Summon, Glyph Institute² ₅
______________________
The first solar eclipse of the 21st century was due in 2 minutes.
The entity's lower anatomy was now beginning to weave itself from tessellating light-ribbons. An abdomen structured from scrolling organic unicode fluctuated from glyph to glyph - while an array of sharp, petal-like forms settled in the space underneath. The being's framework was chaotic, constantly shifting and rearranging in correspondence to complex immeasurable variables. Using sound, the instrument players attempted to guide the lifeform's fluctuating form towards cohesion. This is a task comparable to painting a masterpiece with a magnet to a computer screen. For fleeting moments, the amorphous patterns would emerge roughly where the players intended, then invisible outside forces swiped and warped the forms in opposing directions. The ebb and flow of this conversation with light and matter is a core substrate of creating Lei Music.
The crowd of instrument-players were anointed with a rare flurry of luck - as the being's form had vaguely calmed down enough times for the nearby painters & artists to sketch an interpretation that verged towards accuracy. The song was reaching the first 32 bars' crescendo - characterized by a pummeling layer of lower-frequency billows and mewing Geophones.
______________________
​
-Eœcene Slab measurements, Glyph Institute² ₆
______________________
Quietly, the moon blocked the sun's diameter with a magnitude of 1.0495. Viewed through the circular window of the Eœcene Slab pebble structure - the perceived size could have been calculated at exactly 1.0495 megalithic yards from every angle. Some people theorise this is related to the premature halting of the summon. The entity's stable form came to a rupturing jolt, & toppled into the landscape; its membranous light began seething into ear-piercing helium geysers. The heat of the lifeform's celestial debris pulverised the greensand strata of the surrounding vale - reforming the county's geology beyond recognition.
The often unsuccessful attempt of summoning this being is a generational tradition for the people who inhabit this part of the world. Watching the event happen in 2001 is my earliest childhood memory - scored into my head in 8K (7680*4320) picture-perfect clarity. My Mum, Dad and most people from my street were playing instruments - and although the piece is meticulously rehearsed weekly for a decade in advance, the syncopated harmonium required to complete the track is arguably beyond human cognition.
______________________
'Eœ (Disk•Initate)'
______________________
In the early conception of the Glyph Institute² while the unit was still being built around last February, I'd usually stay the night if it was too late to catch a bus back home. The summoning enclosure was basically the only thing finished, and the rest of the facility was mostly scaffolding. I was working on a lot of rough drafts of songs on my laptop - and kinda just trying to adapt shit in my vault of demos to actually function as Lei Music. Nothing worked beyond summoning a quick shrieking flicker usually. Even when I'd try and flesh out the bulk of skeletal demos and export them into this new DAW we'd been compiling - it just always sounded/looked ghastly. The software was a proto version of the system I'd eventually finish the entire album in - and we ended up calling the system Glyph Suite. From despairing over the broken early software, realising my demo LP probably had to be scrapped, and just feeling drained from lugging breezeblocks around - those overnighters were a shite vibe.
______________________
-Last February, Glyph Institute² construction site.
______________________
One of the many reasons we were trying to create Glyph Suite was to transcribe Lei Music notation into linear, horizontally sequenced music, or the closest we could get to it. This turned out to be a misguided idea, when we figured out the hard way that these songs traditionally reacted / contorted in accordance to the summon's fluctuations (which is also related to the physical location's atmosphere.) This stuff just can't really be accounted for in the notation… and that all this ancient scribbly bollocks we'd been collecting essentially turned out to be guidelines or prep-work for the musicians.
We only had a chunk of the grant we'd been using to build everything - and decided to halt the construction of half of the institute, in order to buy enough parts to build sick new laptops. The new hardware allowed us to correct our daft assumptions about Glyph Suite, by building-in rigs of heliometers, sylph gages, and line encoders into the laptops. We had no money left but shit was actually working. Everything started to click & descramble.
______________________
-5AM in the hallway, p. CC Denton ₁
______________________
In March it was less cold. The first all-nighter of the month led up to the first summon that kind of fucking worked. An slightly unstable alpha build of Glyph Suite finally felt more sculptural and almost gestural. I was trying to reinterpret this microgenre of Lei Music that nearly happened around the early 00's, but was widely discarded after the 2001 Millennium Summon. A few names like GeoClassical & BogSystems have been suggested as coinage for the microgenre, but clearly nothing stuck for it be thoroughly recorded. It's all about modding gear that's not usually used for Lei Music (mallet instruments, composite chordophones etc.) and combining them with actual gear. I think the intention was to basically make these almost neo-romantic Lei Music pieces, but it obviously never really sounded right with all those flickering shimmers and chiral drones interlaced. It's my hypothesis that a lot of this stuff influenced the MS01, but the collision was so violent that the Lei Disk intended to record the summon was lost - so who knows? I was buzzing from messing about on the new Glyph Suite and wanted to feed some of those old ideas into the laptop.
Half the night was spent tweaking these specifically modeled plug-ins, based on some dodgy reverse-engineered blueprints of GeoClassical/BogSystems instruments. I don't think they sounded quite right but eventually I was having the most fun I'd had in months. I'd got this piano to resonate as if it was almost hitting the quartz core of a modded GeoPhone. By about 4AM I had enough notes pinned & rendered tests, as well as a hazy loss of inhibition to hit 'Initiate' and see how far I could improvise on Glyph Suite. I was wrapped up in a sleeping bag in the hallway by the main studio where we built the laptops - whilst opposite to me was the summoning enclosure (a big shielded biome we built for encasing summons.)
______________________
​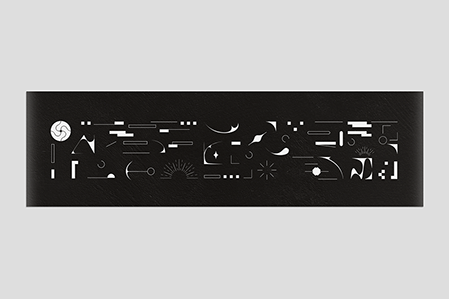 -Rough prompt notation I was feeding into the DAW ₇
______________________
Hitting 'initiate' overcooked the line encoder a bit, but most of the laptop's new junk drearily woke up, throwing me off slightly by emitting a miniature array of start-up sounds. I started the piece by fucking around on the piano/geophone hybrid plug-ins. Nothing appeared for a good 17 seconds, but quickly the air felt heavier the more sylph gages warmed up. My playing began to feel a little more fluid when I momentarily glazed down at my hands and the shitty, tiny keys. Remembering to glance up and inspect the enclosure, there seemed to be a dull, pale marigold-hued cloud - that was beginning to form something of a large network. It felt intangible though - like phosphenes or a floater. I couldn't guide it into a form until I managed to unintentionally nudge this motorised calcium-based instrument I had plugged in. The blurred formation started moving with more frenzied intention, like a moth to a light. The amber hue began splitting into complex, pale gradients - as I slowly found it emitting a lattice of sighs and drones. Drowning out my own playing, I started fucking up the keys and forgot to retrigger the calcite spinner, leaving it to clunk to a slow end. The formation receded back into the air. Tracing my thoughts back, I tried to reassemble the piece and play these growing, rippling motions - while trying to render composites of sketches my mate Vivek sent over in another window. The amber gas was gradually tempted back into the biome. The track's measured pacing seemed to quell the being's amorphous patterns into a steady flow of interlinked rings.
After a moment of negative space - a fleeting 45 second window of time exhibited my first, partial, true summon. The creature fired zipping pillars of transmuting yellow & lilac paint crumbs, birthing fountains of coiling numeric organelle. I couldn't control a thing, but for a few moments I could see the spindling limbs of the Millennium Summon 2001's entity - 'Eœ.' The three-pronged facial structure reappeared numerously. Most of the 45 second window was a violent storm of warped, custard architecture - but the brief moments of clarity are etched into my mind. I kept it up for as long as possible until it faded out. The enclosure was actually fucked despite all the work we put into it, but that felt like a minor footnote. I printed a Lei Disk and tried to go to sleep.
______________________
-Workbench after printing the 'Eœ (Disk•Initiate)' Lei Disk.
______________________
The track, although a disjointed and early test, ended up on the album. It sort of feels like band practice - or some kind of debug. I named the file 'Eœ (Disk•Initiate).'
More Glyph Institute² papers to be published soon...
______________________
╰ ⋵ ⋰☗∰፨☼⑇ DIRECTORY . . .
Entry 01: Introduction to Lei Music, etc.
Entry 02: Daosing, Pebble Networks, etc.
Entry 03: Sylph Fossil development, proto-builds, etc.
Entry 04: A new expedition, communication with the Big Protectors, etc.
Entry 05: Lei Line Eon - Disk by Disk, etc,
​
______________________
Follow @Iglooghost:
INSTAGRAM • SPOTIFY • TWITTER • SOUNDCLOUD
______________________
​