Intro to Daosing, the M⚮rlands, Pebble Networks, & Celles.
This is the second installment of Glyph Institute research papers - click here to read the previous entry.
After spending the last year & a half dedicated to tracing the sprawling history of a phenomenon called Lei Music - I decided to formalise my fixation on the field by founding a research facility called the Glyph Institute². In the following months I will be publishing my experiments, analysis, and best attempts to elucidate the questions that have always eclipsed any formal understanding of Lei Music. Comprised of a tangled nexus of folklore, geology, sound technology and ever-diverging historic accounts - Lei Music's questions seem eternally shrouded by a dense blur.
______________________
​

-Oblique Cell, unknown author ₁
______________________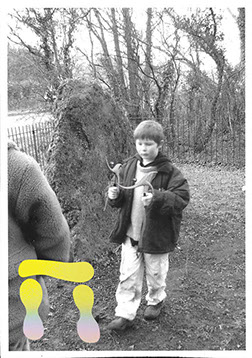 Understanding Lei Music requires a foundational working-knowledge of something called Daosing. A widely misunderstood art that very few manage to master; Daosing has been practiced, gatekept, and everything in between throughout the history of Lei Music. 'Daosing' is an umbrella term for a number of techniques that are all used detect high concentrations of Lei Lines with special apparatus. The dense pockets of Lei activity that Daosing can detect often yield higher success rates of calling forth an entity through Lei Music. Although Lei Lines shift and fluctuate in seemingly immeasurable patterns - Daosing offers musicians assistance with physically tracking down fertile clusters of Lei activity, albeit with several caveats
Daosing Rods are antennae-like instruments that are physically attracted to the pull of Lei Lines. This technology has be adapted, modified and reverse-engineered throughout the eons - however the fundamental physical model has remained constant since as long as the Heliocene. Despite constant innovation - all Daosing Rods to some degree inadvertently affect their surroundings. For a pair of Daosing Rods' detection of Lei Lines to be effective - residual interference and warping of the Lei fields is inevitable due to intense forces of attraction. The audible result of the cross Lei / Daose interaction is an ambient hum - tonally dictated by the Daosing Rod physical build type. The hum naturally interplays with the Lei Music piece, thus influencing the appearance of the entity. All good Lei musicians must compromise and adapt their playing to best fit the ambient hum, or risk collaterally summoning turbulent dissonant banshee-esque beings. A 'clean Daose' has never been recorded, and the Daosing community is constantly striving towards developing rods that are able to closely retain the structural integrity of Lei Lines.
______________________
₁ Selected fracture of a newly uncovered Auolithic Lei Song, p. unknown author. Glyph Institute², 2021.