Intro to Daosing, the M⚮rlands, Pebble Networks, & Celles.
This is the second installment of Glyph Institute research papers - click here to read the previous entry.
After spending the last year & a half dedicated to tracing the sprawling history of a phenomenon called Lei Music - I decided to formalise my fixation on the field by founding a research facility called the Glyph Institute². In the following months I will be publishing my experiments, analysis, and best attempts to elucidate the questions that have always eclipsed any formal understanding of Lei Music. Comprised of a tangled nexus of folklore, geology, sound technology and ever-diverging historic accounts - Lei Music's questions seem eternally shrouded by a dense blur.
______________________
​

-Oblique Cell, unknown author ₁
______________________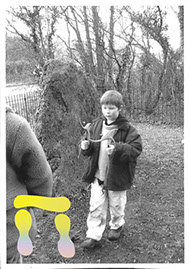 Understanding Lei Music requires a foundational working-knowledge of something called Daosing. A widely misunderstood art that very few manage to master; Daosing has been practiced, gatekept, and everything in between throughout the history of Lei Music. 'Daosing' is an umbrella term for a number of techniques that are all used detect high concentrations of Lei Lines with special apparatus. The dense pockets of Lei activity that Daosing can detect often yield higher success rates of calling forth an entity through Lei Music. Although Lei Lines shift and fluctuate in seemingly immeasurable patterns - Daosing offers musicians assistance with physically tracking down fertile clusters of Lei activity, albeit with several caveats
Daosing Rods are antennae-like instruments that are physically attracted to the pull of Lei Lines. This technology has be adapted, modified and reverse-engineered throughout the eons - however the fundamental physical model has remained constant since as long as the Heliocene. Despite constant innovation - all Daosing Rods to some degree inadvertently affect their surroundings. For a pair of Daosing Rods' detection of Lei Lines to be effective - residual interference and warping of the Lei fields is inevitable due to intense forces of attraction. The audible result of the cross Lei / Daose interaction is an ambient hum - tonally dictated by the Daosing Rod physical build type. The hum naturally interplays with the Lei Music piece, thus influencing the appearance of the entity. All good Lei musicians must compromise and adapt their playing to best fit the ambient hum, or risk collaterally summoning turbulent dissonant banshee-esque beings. A 'clean Daose' has never been recorded, and the Daosing community is constantly striving towards developing rods that are able to closely retain the structural integrity of Lei Lines.
______________________
​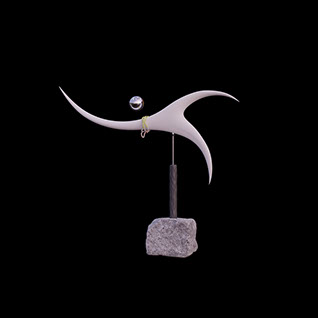 -Auoᴹᵒᵈᵉˡ⁸ Daosing Rods ₃
______________________
As a child, I was a user of Auoᴹᵒᵈᵉˡ⁸ Daosing Rods - which were relatively outdated for a kid growing up in the 2000's. This iteration of rods were designed as new-age 80's recreations of Auolithic epoch rods. Though replicated thousands of years after the Auocene, the rods are thought to be fairly accurate duplicates of the rods of early Lei Music. The Auocene's chlorine-scented, pollen-dense air gave rise to twisting nexuses of lichen - which were fashioned into the Auoᴹᵒᵈᵉˡ rods. Due to the porous membranes of the lichen structures, these rods are often marked by distinctive flow that displaces Lei Lines into scatterings of stucco blotches. Despite the resulting scrambled readings, these rods are thought of as heritage, iconic models - beloved for their ability to summon rounded, oval-sculpted beings.
The Guaoᴹᵒᵈᵉˡ²¹ displaces Lei Lines in similarly chaotic patterns. Expressive, barbed strokes are shredded into the Lei Lines' waveforms - dragging out jarring, drastic, stylized entities from the air. Regarded as a specialist build, the Guaoᴹᵒᵈᵉˡ²¹ purposefully trades off accurate readings of the Lei Lines' form for artisan ruptures and garish flurries. Although controversial to classicists, the Guaoᴹᵒᵈᵉˡ²¹ emblemises a new wave of rod builds that are considered to warp the foundational intent of Lei Music. A growing sentiment in these splintered sects of Lei communities is that the history of Daosing's inherent flaws should be embraced and advanced as far as possible. Physically, the Guaoᴹᵒᵈᵉˡ²¹ and similar rods are ornate and absurd - cramming together many attachments and cosmetic adornments for the most intense Lei displacing scrambling possible.
______________________
​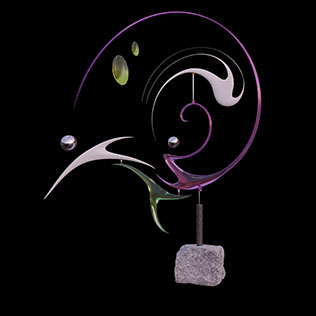 -Guaoᴹᵒᵈᵉˡ²¹Daosing Rods ₄
______________________
A large undertaking of the Glyph Institute² has been developing our own open-source pair of Daosing Rods. The first model, currently in alpha stages, has been dubbed NewSylphᴹᵒᵈᵉˡ¹. Although our main goal is to develop a rod that can provide a truly pure reading - our initial endeavors have involved developing rods that accentuate highly specific traits in entities. Audibly, the NewSylphᴹᵒᵈᵉˡ¹ initially forms a foundational tone of hushed, hooting wisps - however our controlled tests have consistently proved to escalate in a particularly intense direction. Due to the sharp prongs on the tip of the rods' reinforced Sylph Alloy construction - the calm tonal entrance generally hits an abrupt shift-gear around 14 seconds after initiating a musical passage. Theoretically, the alloy's shape causes an emission of pure feedback, centralized in each of the rods' six sharp tips. The Lei Line formations seem to respond by splitting and reforming in sudden binary patterns to avoid collision with the rods' feedback. When these abrupt Lei Line pulses interact with the instrumentation - it seems to intensify any quiet rumbling sounds into fully agitated, thunderous plunges. Ironically, the earliest stages of the NewSylphᴹᵒᵈᵉˡ¹ were intended to accentuate soft, rumbling articulations - however we appear to have stumbled across the perfect admixture to accentuate the very opposite in tone. A full composition developed with the NewSylphᴹᵒᵈᵉˡ¹ will be published in the coming week.
______________________
​

-NewSylphᴹᵒᵈᵉˡ¹Daosing Rods ₅
______________________
Pebble Networks & The Outer M⚮rlands.
______________________
The outer-m⚮rs of Dorset are sprawling, rugged uplands marked by towering granite stacks, heathery marshes, and orbiting metallic organelle. These silent biomes are brimming with invisible activity, often causing Daosing Rods to lead musicians miles & miles into the marshy depths. To most, the m⚮rs are considered no-go zones; they are liminal yet seemingly infinite planes that engulf those who walk too far away from the warmth of villages and cities. Lei Lines can form anywhere, but it's in these m⚮rs that they writhe and knot amongst the landscape - unfettered and safe from repellent signals. Here, the soil is bitter and acidic, conducive to only low-growing vegetation and withering shrubs - while the piles of granite blocks form ceilings to tiny wetland alcoves. The land feels unfinished and ephemeral - as if the meager clumps of greenery are too distrustful of the land to commit to growing fully. Due to many past epochs of earth-shattering summoning - the m⚮rland has been forever churning and collapsing in on itself. Horizons upon horizons of shattered boulders are the direct result of particularly violent summon events - some causing entire batholiths to crumble and reshape. Depending on who you ask - Lei Music's history of battering the earth's skeleton is either a geological warcrime, or just another natural facet of the planet's own self-maintenance.
______________________
​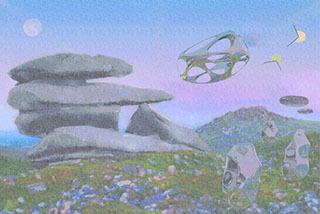 -The M⚮rlands ₆
______________________
Although vegetation and wildlife is scarce - the m⚮rlands are probed by organic satellite-like beings called Celles, that whir and scan the expanses like drones. These lifeforms are not the same as the entities summoned by Lei Music, nor are they affected in any way by it. Colloquially referred to as 'scouts', 'drifters', and 'lookers' - little is known about these organisms, nor has any recorded human contact been made. They appear to keep a watchful eye on any activity in the m⚮rs, whilst zipping up and down the expanses and seem specifically attracted to movement. As groups of musicians set foot into the m⚮rs, the appearance of particular Celles are associated with good and bad folkloric omens. Fools of bygone times that have climbed high enough in attempt to capture or bother the drifters have been scorched with magmatic heat after touching them. Celles are venerated as the blood cells of gods - and unlike every other minute detail of Lei Music, I am indescribably hesitant to inspect or quantify them beyond what I know is safe.
______________________
​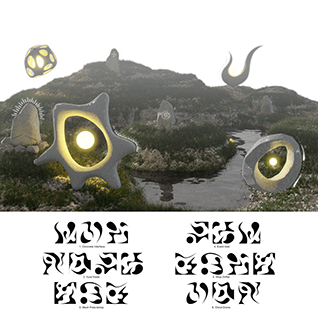 -Annotated Pebble Circle, with Celles. ₇
______________________
Dotted in strange, symmetrical patterns around the m⚮rs are Pebble Networks. Invisibly bound together by Lei Lines, seemingly inconsequential rocks can be part of something extremely key to larger summons. Pebble Networks can be defined as tens to thousands of rocks bound by intense, looping Lei Circles - and can act as the birthing catalyst to humongous summons depending on the circumference. Experienced musicians would be overjoyed at discovering a moderately-sized Pebble Network - while rogue specialists obsess over artificially creating the conditions to birth the widest possible circles. Mysterious rings of forum dwellers in communities such as DiskCircle often conceive of hypothetical consecutive summons, specifically designed to displace the m⚮rland's boulders into the widest possible Pebble Networks.
At the Glyph Institute², we have several papers to be published in the coming weeks - and we also plan to publicize the findings of an enormous research endeavor. Something very big happened here.
More Glyph Institute² papers to be published soon...
______________________
╰ ⋵ ⋰☗∰፨☼⑇ DIRECTORY . . .
Entry 01: Introduction to Lei Music, etc.
Entry 02: Daosing, Pebble Networks, etc.
Entry 03: Sylph Fossil development, proto-builds, etc.
Entry 04: A new expedition, communication with the Big Protectors, etc.
Entry 05: Lei Line Eon - Disk by Disk, etc.
​
______________________
Follow @Iglooghost:
INSTAGRAM • SPOTIFY • TWITTER • SOUNDCLOUD
______________________
​